Get Up To 

$10K in Rebates

 From Enbridge &  The Greener Homes Grant

There's never been a better time to consider a heat pump for your home. With enhanced rebates now available through a partnership with Enbridge Gas and the Government of Canada's Greener Homes Grant, you may be eligible for up to $10,000 back in rebates. Get the heat pump rebate Ontario residents have been utilizing to save money on their home efficiency upgrades. Get detailed information on the Home Efficiency Rebate Plus program through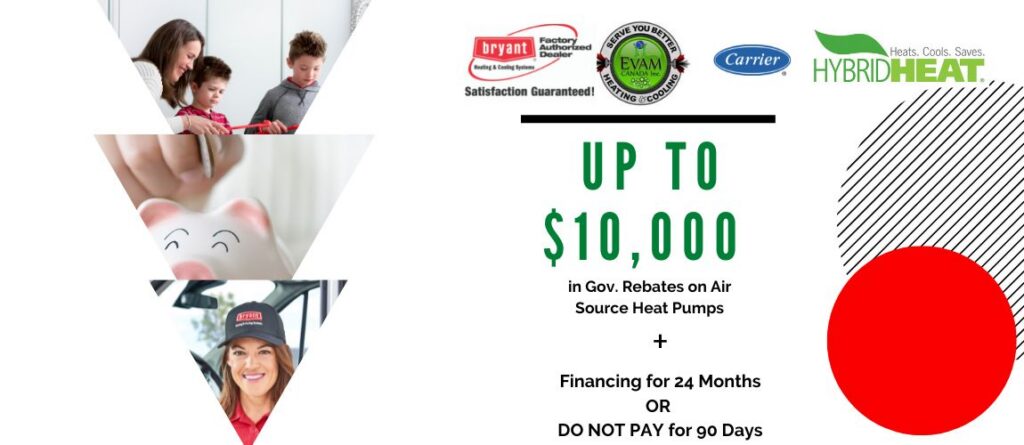 Bryant & Carrier Hybrid Heat Pump Systems
If you currently have baseboard heating or window unit air conditioning and are looking to upgrade to a more efficient system, a heat pump can be the ideal solution. Offering more efficiency than outdated forms of heating and cooling while being cheaper to operate than natural gas, a heat pump is a cost-effective and eco-friendly option that you're going to want to consider. When it comes time to upgrade to a heat pump, you can count on EVAM Canada to provide you the heat pump installation services that help make your home more comfortable.
At EVAM Canada, we are the providers of heat pump installation Mississauga residents can rely on. With more than 25 years of HVAC experience, you can count on our team to provide you with the best service in the industry. Our expert technicians are dedicated to providing you with expert installation for your heat pump system. We know that an air-source heat pump can be a smart choice for many households. Let our team assist you with choosing the heating and cooling option that is right for your home.
With expertise in furnace installation, air conditioner installation, and heat pump installation services, we are the team you can trust with your home comfort. Find your Carrier heat pump or Bryant heat pump with us and get ready for improved operating costs and comfort year-round.
Licensed & Insured HVAC Engineers with 20 Years Experience.
24/7 Emergency Furnace Repair In Mississauga
We Repair All Furnace Brands
Your Trusted Local HVAC Contractor.
Rated 4.4 Stars on Google & 9.7/10 on Homestars.
Lowest Price Guaranteed
0% Flexible Financing with $0 Down is Available
Call us today at 905-624-5544
How Much Does a Heat Pump Cost?
When considering a hybrid heat pump system for your home, the cost is always one of the top considerations. It's important to consider that the heat pump cost reflects its hybrid functionality, offering both heating and cooling in a home. Heat pumps are more efficient than outdated forms of heating and cooling and cost less to operate than natural gas, making them the ideal choice for those looking for long-term savings or a simplified solution that provides both heating and cooling.
Are Heat Pumps Efficient?
Heat pump efficiency is one of the top reasons to consider installing one in your home. Heat pumps can supply the same amount of heat to a home while using less energy than traditional heating sources. Ductless heat pumps offer a high-efficiency solution for older homes and could be the most efficient way to heat and cool your home. Speak with a member of our team to learn more about what type of heating system is best suited to your home.
–
We Service All Brands & Manufacturers
We Serve All Furnace & Heating Brands including: Carrier, Bryant & Payne.

Licensed & Insured HVAC Engineers With 20 Years Experience