Furnace Installation Services in Mississauga & Oakville
Financing Options Available!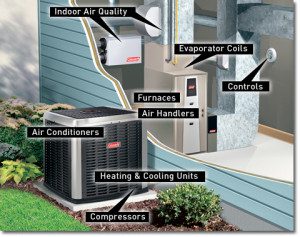 When the time comes for a new furnace, you'll want to ensure that it is properly installed so it can perform to its maximum efficiency and provide many years of reliable heating. As soon as you begin to consider purchasing new heating equipment, it's important that you reach out to a heating and cooling professional. An expert can help you make the right decision, and install your furnace safely. 
Licensed & Insured HVAC Engineers with 20 Years Experience.
Same Day No Hassle Installation Service
High Quality & High Efficiency Furnaces
Your Trusted Local HVAC Contractor.
Rated 4.4 Stars on Google & 9.7/10 on Homestars.
Lowest Price Guaranteed
0% Flexible Financing with $0 Down is Available
Call us today at 905-624-5544
Evam Canada sells, services and installs high efficiency gas furnaces from leading manufacturers such as Bryant, Payne, Carrier and many others. Our team is here to help you choose the right make and model for your needs, depending on the size of your home, efficiency requirements and budget. When it comes to your budget we are proud to happy to offer financing options for all furnaces.
Why Choose Evam Canada For Furnace Installation?
With more than 25 years of furnace installation experience, many Mississauga and Oakville residents turn to our team for the best service in the industry. At Evam Canada, you will enjoy unparalleled service throughout the entire furnace installation process. We'll begin by delivering your new furnace for free, at a time that is most convenient for you. Our skilled technicians will then install your furnace correctly and safely, ensuring that it is ready to begin heating your home for your total comfort. We Serve All Furnace & Heating Brands including: Carrier, Bryant and Payne. We Serve All Furnace & Heating Brands including: Carrier, Bryant and Payne.
When you choose our team for your furnace installation in Oakville or Mississauga, we will never send an unskilled worker or sub-contractor to perform our services. We ensure the highest quality installation, highest quality products from Payne, Carrier or Bryant and excellent customer service at all times. At Evam Canada we always have our licenced specialists install your furnace. Our expert technicians are factory trained to install all furnace models we carry so you can start enjoying your new equipment worry-free right from the start.
To book your gas furnace installation appointment, or to learn more about any of the efficient furnace models Evam Canada offers, call us at 1-905-624-5544 or request a quote online now.
We Service All Brands & Manufacturers
We Serve All Furnace & Heating Brands including: Carrier, Bryant & Payne.

Licensed & Insured HVAC Engineers With 20 Years Experience